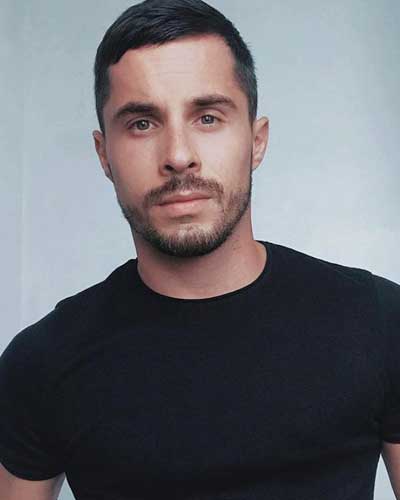 What was your professional background before joining ESMOD? Did you always want to work in fashion?
Before ESMOD, I obtained a technological STAV baccalaureate, a largely unknown field. It consisted of studying biology, ecology and the environment and was a path I had chosen after having done a BEP.
in landscaping that never really appealed to me. Fashion was always in me, it just needed a trigger or something to wake it up. I remember when I was younger, I used to take my sister's magazines and tell myself that I want to do that one day. The first spark was my first student job: saleswoman for PAP Man for Celio. That was where I really started to discover fashion. I was 18 and it was then when I started to buy every men's and women's fashion magazine and read all about fashion on the internet.
Lets go back to your education at ESMOD: what kind of student were you? What are your best and worst memories?
My grades were not the best, but I worked very hard and it did not go unrecognised; I received a reward for deserving, meritorious students that only was awarded to two others in my class. Actually, I was never that good in a school environment, I performed a lot better in more real conditions like internships. aMy teachers are really to thank for inspiring my passions  (except accounting which was my nemesis despite the encouragement of my teacher). I also have fond memories of the fashion weeks. the worst memories are those of deadlines all falling at the same time! Ultimately, the memories are good because I was able to better understand the professional environment thereafter.
What is special about ESMOD to you?
I believe what makes ESMOD Fashion Business special is its unique combination of fashion, sales and marketing: the three essential: essential for a career in fashion business. One quickly learns that fashion is not all glitz and glamour but hours of reflecting and research. Everything revolves around the communication budgets, marketing and management. We realise later that without all this, clothing is nothing. Fashion is hours and hours of work from the initial idea to the final product commercialisation.
Tell us about your career after ESMOD, your duties and responsibilities…
After ESMOD, I interned as a visual merchandiser at Louis Vuitton for six months. After three months there, my old career adviser offered me the opportunity of joining his team of of visual merchandisers at Hugo Boss. He offered me the position of Regional visual merchandiser for the Paris area.Without a second's thought, I jumped at the chance and handed in my resignation at Louis Vuitton. I quickly went from visual merchandiser in-store in a corner of a big store to managing more than twenty Hugo Boss stores.
Today, I am still at Hugo Boss, in charge of stores in Paris and Île de France. I am in charge of the stores' aesthetic and how the collections are presented in-stores in my network. I oversee all of the shop windows and participate in the installation of showroom collections. I train retail merchandising teams to become self-sufficient and attend the openings of stores all through France. I also keep my sales teams sharp but overseeing all of the merchandising corrections that need to me made in my network and explain to my teams what went wrong. I analyse the numbers closely and am able to set up merchandising actions from there. I also do reporting on my network and adapt the merchandising strategies according to the store, constraints, opportunities, customers and location. My responsibilities are staying on track of my network and the store managers so every store meets the standards developed by the merchandisers at Hugo Boss Germany.
What are the qualifications needed to be able to carry out your current position?
The qualifications are very simple: you must be organised, have passion, rigour, creativity but most importantly attention to detail. Even if you do not notice at first, detail is everything in this business.