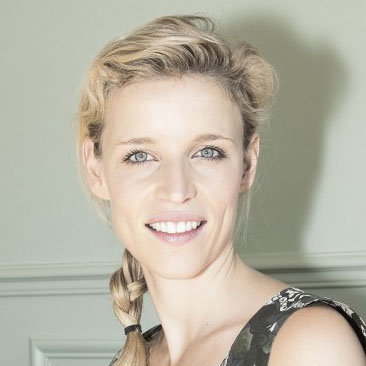 What was your process before coming to ESMOD? Did you always know that you wanted to work in fashion?
I was always surrounded with fashion because my parents worked in the textile at Belgium. I orientated my studies towards the goal of working in their business. I started with a general commerce school at Anvers and I had wished completing the program by doing one year as an exchange student abroad. That is when I orientated towards that program at ISEM, which offered me the opportunity to start with the Parisian fashion and to perfection, my French.
Let's come back on your schooling at ESMOD: what type of student were you? Where your best (or worst) memories?
I was a warned student because I already had a good knowledge of marketing, but I developed a lot of knowledge through the numerous practical cases we worked on. I was glad to have met other students that came from all around the world. By the way, I met my best friend at one of ISEM's benches.
According to you, what are the specialties of the Fashion Business program you were in? What did it bring to you?
Like I was saying, this program does not only cover the theory aspect but insists a lot on the practical case studies, which lets us have a really precise and required idea on the professional world. In the other hand, the program integrates numerous disciplinary that does not limit in the marketing: it covers the communication, management, and fashion history… All this opens up our visions that are ahead of us and makes us versatile. At the end of the program, we get to have a better picture of the different fashion professions and we are more confident in choosing what we want to do on our path. The intern of the end at the end of the last year is also a big asset in this program because it permits us to work in the real working world and to develop our network.
Tell us about your professional journey after ESMOD, your tasks and responsibilities...
At the end of my program, there were 2 internships that were offered to me: buyer at Galeries Lafayette or assistant of product manager at Lanvin. After having maturely thought about my decision, I picked on the second choice and I did not regret it. This experience at Lanvin opened up a door for a job position and I've learned so much on the product approach.
Afterwards, I naturally orientated myself towards the kids' fashion by working for a specialized web market. I then met a former associate who had a design and furniture shop for children. It was through this association that the brand WOMB was born. The concept store that I launched a year ago in the 2nd district of Paris focuses on children. On top of selling fashion and design products for children it I have to also propose all different ranges of services to the families: relaxation therapy, pre-birth yoga, baby massage and much more. That is how I am planning on building my concept unique and for now it seems to be working well.
What are the required qualities to do what you are currently doing?
First of all, you need a huge motivation and reactivity. Everything goes so quickly in the fashion world and we have to be watching out on everything, especially on the competition around you. Of course, you need a lot of curiosity and an eye to be able to select the right products. You have to be resourceful because having your own business it's also to managing a lot of the administration.
Concept Store WOMB : 93 rue Réaumur – 75002 Paris