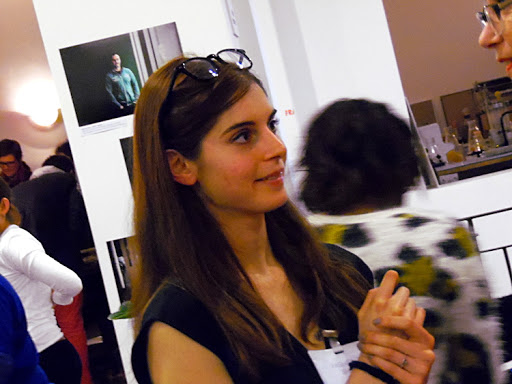 What was your background before joining ESMOD? Did you always want to work in fashion?
Until high school I drew a lot, but I think it was the fact that the possibility of being able to create seemed more within my abilities through this mode of expression, that I made the choice to go with fashion. What I particularly like about fashion is that it's multidimensional. Beauty in all its forms is a concept that never bores me. It is a twin sister of freedom because everyone can decide to acknowledge it in an infinite number of ways.
I did a self-portrait during an art project in seventh grade where I pictured myself drawing a garment next to a mannequin. At the end of secondary school and against the advice of some teachers who recommended me to go for a scientific specialization, the darling of our educational system, I chose to do a specialization in Applied Arts at the Ernest Hemingway High School in Nîmes, my hometown.
Let's look back at your education at ESMOD: What kind of student were you? What are your best (or worst) memories?
I was a serious student, or at least I was doing my best, but the teaching approach radically differed from that of my education in Applied Arts and I stopped fashion design during my third year for this reason, to concentrate on technique by choosing double pattern making in both men's and women's classes. I keep a very good memory of the third year despite the workload. The teachers had taught me a lot and I had two classes full of talented students of different nationalities, a diversity that I consider an incredible source of inspiration. Because I lived far away, did a lot of sports and because there were many pieces of clothing to make, I was very tired at the end of the third year, I tended to deprive myself of sleep to finish the fabrics, which I don't recommend to anyone because in this state you really don't produce anything good. I was very lucky to take part in the parade of the 170 years of ESMOD, the juries had passed, we were serene, producing the pieces while discussing with the teachers was a real pleasure.
What makes ESMOD special, what do you think its strong points are?
I would say that ESMOD has the distinctive feature of leaving as much room for fashion design as for pattern making, so students at the end of their third year have acquired sufficient technical skills to produce their own collections. Undeniably one leaves ESMOD with the status of a fashion professional. The cultural diversity of the students is in my opinion a strong point, I find that the teaching is very "French" however, which corresponds to the culture of some of the major labels in the sector, but personally I'm not a fan – perhaps because of my taste for independence in the creative process.
ESMOD keeps its commitments on technical content and I am happy to see that the school is evolving with the times, that there is a more thorough follow-up work with former students.
I also appreciate the accessibility of teachers, management and staff support.
You then decided to complete your training with Post-graduate Fashion Business (state accredited with Level 7). What motivated you to take this course?
In the company, I was bothered by managerial issues, but this was not at all in line with what is expected of a pattern maker. Understanding that at this stage my prospects for development were mainly technical, that the work of a pattern maker did not fulfill me, I decided to follow the ISEM training in Post-graduate Fashion Business.
The post-graduate program gave me a more global vision of the fashion industry, and I gained valuable knowledge that helped to develop the initial thinking that led to the creation of my company Hall Couture.
Tell us about your career path after ESMOD and ISEM, your duties and responsibilities…
After ESMOD, I did two very different internships, the first one with the ethical fashion designer Marcia de Carvalho, the second one at Léonard Paris where I was an assistant designer. After ISEM I did an internship in sales at Rick Owens, a really stimulating experience. At the end of this internship I had the opportunity to replace the director of the brand's shop at Le Bon Marché for a few weeks and to work in the showroom. The idea of creating a shared workspace dedicated to fashion design emerged during my second or third year at ESMOD but it was at that time that I started to feel capable of leading such a project. The opportunity arose for me to take up a position as an assistant pattern maker at a leather goods manufacturer, François Métreau, and I thought it would be a good professional experience to improve my technique, so I signed a fixed-term contract. The observations made during my previous experiences in the workshop increased my desire to move towards more relational and management skills.
What are the qualities needed to perform your current duties?
I think that to be an entrepreneur you have to be both persistent and clear-sighted about your weaknesses. You have to know how to work well with others, you have to be flexible but also determined, so entrepreneurship is very demanding and that's what I appreciate. Finally, you have to prefer the unexpected to comfort and routine.
As the founder of Hall Couture, you have become a specialist in fashion innovation. So, what do you see as the fashion of the future?
I hope that fashion will become more and more concerned about working conditions and wages abroad and return to more virtuous ways. I hope that innovation and quality will be favored over fast-fashion, which is decidedly not in line with the issues of our time nor with the reality of available resources. I see three trends with strong potential to influence tomorrow's fashion:
– 3D printing, which will become cheaper and whose consumables will become more diversified.
– connected clothing and accessories that rethink our relationship to clothing and make it "communicative".
– big data and its processing, which can lead to new collaborative business but also to a hyper-personalized fashion.
Advances in fields such as robotics, artificial intelligence and synthetic biology are opening up new paths for tomorrow's fashion. For example, we could imagine self-cleaning nanorobots that organize themselves to create a dress, a sweater or a suit according to our needs, one after the other.